Round 1, pick 4: Aaron Curry, OLB, Wake Forest
Before the draft started, I was just hoping the Seahawks wouldn't take Mark Sanchez and hoped they would take the safe pick of an OT assuming Curry was off the board. I absolutely did not expect Aaron Curry to fall in our laps like he did, but I'm so glad they didn't screw it up. Curry was considered by most to be the safest pick in the draft, and with good reason. The guy is an absolute beast who ate up the ACC for 4 years; not to mention the fact that he oozes class. He invited a cancer-stricken kid to come with him to the draft! How awesome is that!? Welcome to Seattle, Mr. Curry. Please enjoy your extended stay.
Round 2, pick 17: Max Unger, C, Oregon
I like this pick because Unger is so versatile. Our offensive line is getting more and more questionable, so we really need Unger to step in and make a difference.
Fun Fact: He played high school football at Hawaii Preparatory Academy in Kamuela, Hawaii.
Round 3, pick 27: Deon Butler, WR, Penn State
Of course I was hoping we would end up with Crabtree somehow (the Raiders are idiots), but I would take Curry over him every time, especially since we signed Houshmandzadeh. The Seahawks moved up to take Butler who was a standout at Penn State where he finished with the record for most receptions (passing former Seahawk Bobby Engram).
Fun fact: Butler spent the summer of 2008 as an intern with the Philadelphia Police Department's Crime Scene Unit, observing several homicide crime scenes, and augmenting his degree with valuable field experience.
Round 6, pick 5: Mike Teel, QB, Rutgers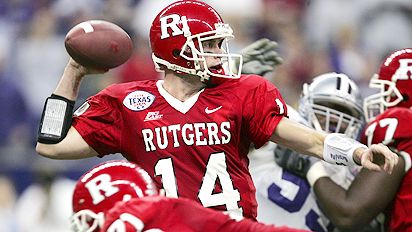 Fun fact: On December 4, 2008, Teel had a career night in the final home game of his college career, completing 21 of 26 passes for 447 yards and seven touchdowns with no interceptions as Rutgers routed Louisville 63-14. The yardage and touchdown totals were single game school records as the Scarlet Knights finished their schedule at 7-5.
Round 7, pick 36: Courtney Greene, S, Rutgers
Round 7, pick 38: Nick Reed, DE, Oregon
Round 7, pick 39: Cameron Morrah, TE, California
I honestly don't know enough about the last 3 picks to offer any analysis, but I do know that they all filled team needs (except running back).
Undrafted signed free agents:
Michael Bennett, DE, Texas A&M
Tony Fein, LB, Mississippi
Dave Philistin, OLB, Maryland
Devin Moore, RB, Wyoming
Andre Ramsey, OT, Ball State
Tyler Roehl, RB, North Dakota State
We ended up with a couple running backs after all. I've heard good things about Devin Moore, so we'll see what he can do, plus Tyler Roehl is like a legend here in North Dakota so I really hope he takes it to the next level, it would definitely help the local market to pick up some Seahawks games.
Overall, I love what the Seahawks did in the draft, and that usually doesn't happen, they usually find a way to screw something up. I'm ecstatic that we got Aaron Curry, plus a trade with the Broncos gives us their 1st rounder next year...so I'm really counting on Denver to suck.
This was a little bit of a head scratcher, because I felt that Seattle still needed a running back to throw into the mix and there were still some viable options on the board. Teel's alright, but we already had a clipboard holder in David Greene and I'm afraid that Teel's headed to the same fate. I really hope I'm wrong because I know of a
couple
other
6th round quarterbacks that had their fair share of doubters.